– ONE-OFF and LIMITED FLASH-TATTOOS* –
///
FEEL LIKE CARRYING ONE OF MY DRAWINGS?
+ CLAIM a design from the WALL (ONLINE or at the shop) – "one-off-flash"
+ BROWSE through some of my market-flash (at the shop) -"limited-flash & fillers"
AND WHO KNOWS, 
you might be drawn to a drawing so much, 
you end up with a tattoo you never even thought of getting!
///
OPENING HOURS, LOCATION & CONTACT? HIT HERE!
XXX
NDA.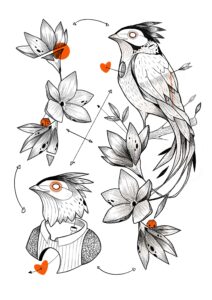 *Some elements and shapes from existing designs might be 'repurposed' as to inspire a new one…the designs relate to each other without being completely identical.
**Know that I might reproduce any given design in an other, yet still limited way; apart from reproduction on skin.
***all 'City Of Dismania'-drawings that you might like to have inked are not limited. They are part of The City's narrative. That is also why they don't appear on the "wall".